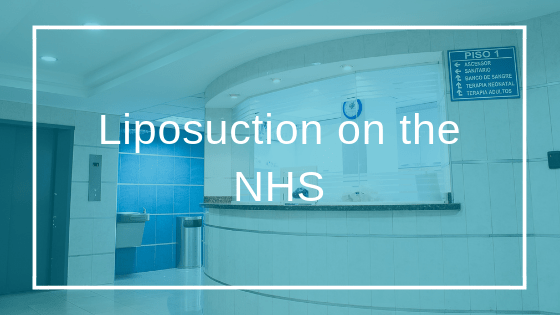 A decision to get liposuction is rarely made overnight and it is natural to think about your options; How much will it cost to go private? How much work will I need doing? How long will it take to recover? Can I get liposuction on the NHS?
As liposuction is, for the most part, a cosmetic procedure, used to enhance appearance, the NHS does not usually make it available, and even when it does there is often a very long waiting list.
There are certain conditions that are carried out as reconstructive surgery under the NHS, listed here:
Lymphoedema – a condition where excess fluid and chronic swelling in many parts of the body is triggered;
Lipodystrophy syndrome – where fat is gained in one area of the body and lost from another (a side effect of some HIV treatments);
Lipoedema – covered extensively on the Dr Gupta Clinic blog, this chronic condition typically causes an abnormal build-up of fat cells in the legs (think "cankles", thighs and buttocks;
Gynaecomastia – "man boobs" or "moobs" where boys' and men's breasts swell and become larger than normal, often caused by a hormone imbalance;
Breast cancer – your own body tissue, including body fat, may be used by a surgeon to construct a new breast after a mastectomy.
What is liposuction?
As a reminder, liposuction is the removal of unwanted body fat using a surgical vacuum. Many clients are looking to slim and smooth the contours of their body through this form of cosmetic surgery.
What is tumescent liposuction?
Often we have pockets of fat on our bodies that simply will not shift through diet and exercise. Tumescent liposuction or Microlipo is an advanced, minimally invasive liposuction technique using smaller-than-usual cannulas (needles) to remove fat and help sculpt the body, enhancing your contour, definition and physique.
Dr Gupta performs tumescent liposuction, which involves injecting large volumes of dilute local anaesthetic to the areas being treated. This causes firmness or a type of swelling in the area also known as tumescence. Dr Gupta is one of the few doctors in the UK who has been trained personally by the inventor of tumescent liposuction procedure, Dr Klein.
Tumescent liposuction, when done correctly and in the right quantity, is the safest form of liposuction. This is because the anaesthetic solution shrinks the capillaries reducing surgical blood loss. Complications from using this form of liposuction through local anaesthetic are extremely rare.
I'm looking for a cosmetic procedure.
If you do not suffer one of the above conditions and want liposuction for cosmetic purposes, a private clinic is your best option.
You have the right to any clinic, and we always advise you research as much as possible, ask as many questions and put all your fears at ease before you decide to proceed. Dr Gupta is only interested in achieving safe and effective results.
Our guidance is to check the surgeon's qualifications, ask about their experience and for testimonials, and always ask for before and after photos, which should be freely available.
What does our clinic offer?
In short, quality, peace of mind, and the highest quality microlipo surgery around.
Dr Puneet Gupta is one of the UK's top accredited aesthetic physicians and has performed thousands of operations over the decades, he performs a wide-range of non-surgical cosmetic procedures, and is a specialist in tumescent liposuction.
Dr Gupta trained as a GP with a special interest in dermatology at Oxford Deanery, and he is also a member of the British College of Aesthetic Medicine and the American Academy of Aesthetic Medicine. He is regularly called upon by the media for his expert opinion. He has featured on Channel 4's Embarrassing Bodies as well as chat shows for several BBC Radio programmes. He has also been interviewed by national publications including The Times, Guardian, Daily Mail, Tatler, Elle, Cosmopolitan and Vogue. To date, he has performed over 3,000 liposuction procedures.
If you are suffering from lipoedema or gynecomastia and would prefer to undergo private treatment, don't suffer in silence; give us a call and we'll be happy to offer some guidance.
Contact us today for a consultation.
Microlipo
,
Vaser Liposuction